Karate Training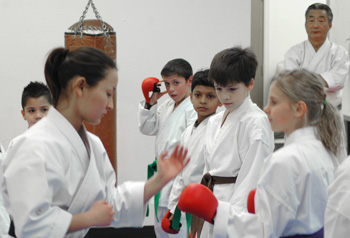 Colorado Budokan offers karate training classes for all ages and skill levels - from children to adults, beginners to advanced practitioners.
All classes are conducted in a traditional manner and include the elements of etiquette associated with our art including; a reciting of the principles of karate; a series of formal bows honoring the founders of the art, our teacher and our peers; warm ups, basics, kata (forms), and sparring (kumite).
Instruction in each class is unique and will focus on the elements deemed most beneficial to the class by the instructor that day.
All age groups have the opportunity for sport karate competition at a local and national level. Teens and adults have the opportunity to compete internationally if they choose to pursue these goals.


Classes for Young Children
Our karate classes for young children are designed specifically for pre-school aged children ages 4-5. These classes emphasize the essential qualities of good character; such as courtesy, respect, and discipline. These karate classes are designed to promote development of motor skills and improve a child's ability to pay attention and follow directions.
All karate classes for young children are taught using fun and safe teaching methods appropriate for the age group. All instructors are CPR and First Aid Certified. A special tuition structure is avaialble for students ages 4-5. Contact us for current rates
Classes for Kids and Tweens
Our karate classes for primary school aged kids 6-12 are generally organized by skill level and corresponding rank. All classes from beginner to more advanced, emphasize the fundamental qualities of good character along with the physical development of the body. The classes are conducted in a traditional manner and include physical conditioning exercise along with instruction in Shotokan Karate techniques appropriate for the specific age and skill level.
Classes for Teens & Adults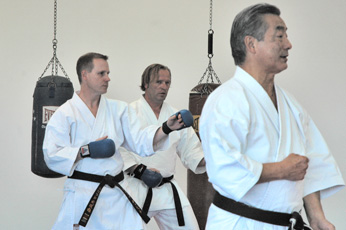 Because teens and adults are more able to focus on their own individual instruction than younger children, these karate classes combine students of all skill levels and ranks - from white to black belts.
Although classes typically consist of a wide range of ranks training together, we provide instruction for each individual at the level appropriate for one's abilities.
These combined rank classes also allow more novice students to benefit from the assistance of higher ranking and more advanced practitioners as they develop their skills.
In addition to building a strong foundation in karate techniques, teens and adults can begin to explore karate as a means of maintaining a level of physical fitness, learn self-defense, and use karate as a way to control daily stress.
---
Karate in the Olympics
Karate made its first appearance as an Olympic sport at the 2021 Summer Olympics in Tokyo, Japan; a new and exciting development for sport karate practitioners around the world.

Although there are many independent karate organizations across the United States, each using their own rules and regulations, the Olympic games will utilize the World Karate Federation (WKF) rule set in its competition; the same rules and regulations that Colorado Budokan teaches as part of its regular curriculum and has utilized in their annual regional tournament (Friendship Cup) for many years.
This makes Colorado Budokan an ideal place for those interested in learning Olympic-style sport karate structure including technical rules, procedures, scoring, and allowable techniques as they apply to both Kata (forms) and Kumite (sparring); both to be featured in the 2021 Olympic games.
The head instructor at Colorado Budokan, Mr. Isao Gary Tsutsui, is a founding member of the USA National Karate-do Federation (USANKF); the national governing body appointed by the United States Olympic Committee for traditional karate in the United States.
---
Kick Start Program
Includes:
First Month of Lessons
1 - 3 Karate Classes per week
Uniform (Gi)
This one-month trial program offers an opportunity for the student to try the classes with only a short term commitment. It allows us to demonstrate the benefits of our martial arts program and provides an opportunity for the student to get to know the instructors and determine if our karate classes and schedules are right for them.
Includes:
Uniform (Gi) & Patch
Sparring Gloves
Student Training Syllabus
1 - 3 Karate Classes per week
This program is our basic training program. It is a great way to develop the physical skills and personal qualities fostered by a high-quality karate program with flexible time commitments. This program also provides the student with a 5% discount on equipment and a 10% discount on technical seminars.
Monthly, Quarterly, Semi-Annual and Annual tuition rates are available.
Includes:
Uniform (Gi) & Patch
Student Training Syllabus
Sparring Gloves
Unlimited Karate Classes per week
This program is designed for those committed to attaining specific goals in their karate training. In addition to development of basic skills, this program is ideal for those wishing to pursue a higher level of training that may include specific goals - such as preparation for competition, advanced training, or simply a more serious commitment to one's physical and intellectual development as a karate practitioner.
This program also provides all the benefits of our basic program - including equipment and other student discounts.
Monthly, Quarterly, Semi-Annual and Annual tuition rates are available.