Our Martial Arts School Karate Instructors
Our Martial Arts School Colorado Budokan provides an outstanding group of karate instructors from a wide range of backgrounds. They include United States National Karate Federation Team members, certified referees and judges, numerous National and International Championship medalists, and sports medicine professionals and fitness trainers.
---
The Head Instructor of Colorado Budokan is Mr. Isao Gary Tsutsui. He was born in Minneapolis, Minnesota in 1946 and moved to Denver, Colorado when he was six months old. He began his formal training in the art of karate in 1965 in Shotokan karate under Mr. Yutaka Yaguchi and Mr. Joseph Castillo of the Japan Karate Association of Colorado.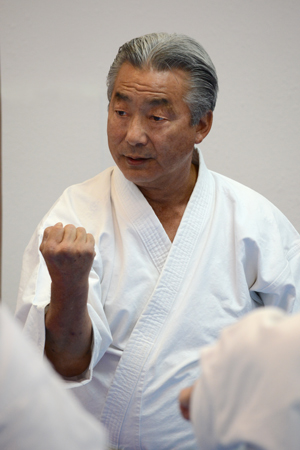 After five years of Japan Karate Association training he moved to Irvine, California. He trained under Mr. Kiyoshi Yamazaki, karate master in Shindo Jinen ryu and weapons expert from 1970-2007. During the period from 1970-79 Mr. Tsutsui completed his Bachelor of Fine Arts Degree at the University of California, Irvine, taught photography and serigraphy for the UC Irvine Recreation Department, and was head instructor of the UC Irvine Karate Club. He moved back to the Denver area in the fall of 1979. He is a 7th degree black belt. He teaches karate at Colorado Budokan, his main dojo, in Denver Colorado, and also instructs at the Colorado Athletic Club-Downtown, Colorado School of Mines, and travels extensively teaching technical seminars and officiating at tournaments around the country.
Mr. Tsutsui was a bronze medalist at the Fourth World Union of Karate-do Organizations (now named World Karate Federation) World Championships in Tokyo, Japan in 1977. He is the first, and one of only two American males to ever medal in individual kata competition in the World Karate Federation World Championships. He was four times a United States Karate Team member from 1977-1980. In July 2001 he was inducted into the USA National Karate-do Federation (USANKF) Traditional Karate Hall of Fame.
Mr. Tsutsui has certified as a World Karate Federation kumite referee, World Karate Federation kata judge, a Pan American Karate Federation kumite referee, and a Pan American Karate Federation kata judge. He has served as Regional Vice-President and Chairman of the Referee Council for the USA National Karate-do Federation.
Mr. Tsutsui is also a member of the Advisory Board of the Colorado Governor's Council for Physical Fitness.
---
Mrs. Candice Rei Tsutsui is the Assistant Head Instructor of Colorado Budokan. She was born in Seattle, Washington in 1956, moved to Kenwood, California when she was 3 months old, moved to Grants Pass, Oregon in 1965, and then to Denver, Colorado in 1970.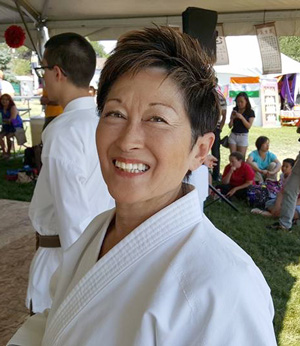 Mrs. Tsutsui holds a B.A. in Physical Education with Emphasis in Athletic Training from Metropolitan State College and a Masters of Physical Therapy (MPT) degree from Northern Arizona University.
Mrs. Tsutsui began her formal karate training under Isao Gary Tsutsui in 1981, she currently holds a 5th degree black belt in Shotokan karate and is recognized as Renshi (a teaching title). She is a Konishi Cup Grand Champion and multiple Gold medal winner, and has lectured as an educator.
Mrs. Tsutsui also holds a third degree black belt in Naginata-do (All Japan Naginata Federation) and has certified as a USA National Karate-do Federation kumite referee and kata judge and frequently officiates at tournaments.
In addition to actively teaching, Mrs. Tsutsui assists with implementing exams, administration of Colorado Budokan curriculum, and coordinates the annual Friendship Cup Karate Tournament.
Mrs. Tsutsui's formal education in anatomy, kinesiology, nutrition, and rehabilitation, in combination with her successful competition experience makes her unusually qualified in teaching karate and naginata.
---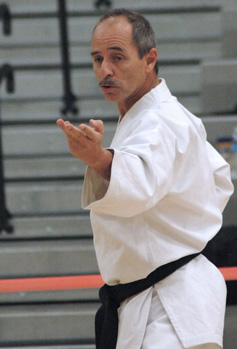 Born in Japan and enjoying a life-long interest in Asian culture, Mr. Gino Moraga began his martial arts training in Judo as a teenager. Throughout his life, Gino has been active in a wide range of martial arts including aikido, judo, tae kwon do, gung fu boxing, and huarang do.
Focusing his training in karate for over 30 years, Gino currently holds a 4th degree black belt in Shotokan. Beginning his karate training under Senseis Bernie and Tillie Garcia of Tooele, Utah, Gino moved to Denver, Colorado in February 1995 specifically to train with Senseis Gary and Candice Tsutsui, who's training he directly credits with obtaining his first degree black belt in 1996.
Gino's long history in karate - including nearly 10 years as a brown belt and two failed black belt test have taught him both the value of training under excellent teachers and to never give up.
---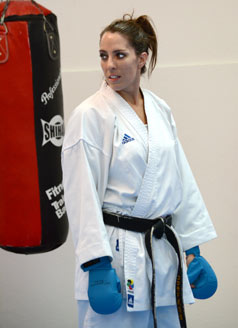 Ms. Megan Cicchetti holds a 3rd degree black belt in Shotokan Karate and has trained with the Tsutsui's since the age of 7. From an early age and throughout her life, Karate-do has acted as a guiding principle for her and she directly credits her practice of the art as a primary factor in her physical, emotional, and spiritual development.
Competing in local, national, and international forums since 2001, Megan has medaled in the Konishi Cup, USANKF Junior Olympics, National Championships, and US Team Trials. She has also competed in the Junior and Senior Pan American Championships and North American Cup competitions and is a former USANKF Jr. & Sr. National Team Member. Megan also competes regularly in local and regional tournaments.
Megan finds helping students improve, progress, and reach their personal goals as they develop their skills personally rewarding and enjoys seeing the potential in a student come to fruition. As a student, teacher, and athlete, she has found that karate provides a path for continuously improving herself while helping others.
In addition to instructing in Karate, Megan is also a certified personal fitness trainer, student of Human Performance and Exercise Science, and an avid sports enthusiast.
---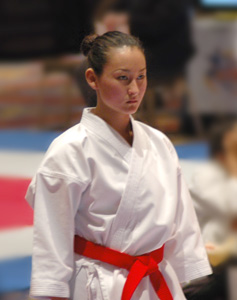 Akemi Tsutsui-Kunitake was born in Denver, Colorado and began her formal Shotokan karate training under her father, Sensei Isao Gary Tsutsui in 1997. She currently holds a 3rd degree black belt in Shotokan Karate. Growing up in a karate family and immersed in the principles of karate-do, she has truly experienced karate as a way of life. She views her relationship with karate as a life-long endeavor and fully appreciates how the martial art is constructed to build strong moral character through the hard work and discipline required to execute the physical aspects of karate.
In addition to having a strong Shotokan base from her training with Sensei Tsutsui, Akemi has been fortunate to train with karate masters of different styles, namely Sensei Barbara Maile Chinen-Koncal (Shito-Ryu), Sensei Shin Tsukii (Goju-Ryu) and Sensei Tomohiro Arashiro (Ryuei-Ryu). Her diverse experience in kata of different styles has contributed to her great respect for the karate community as a whole.
Akemi competes regularly and has medaled in the Junior International Cup, USA Open, USANKF/USA Karate Nationals, and countless local and national events. She is a current USA Karate Senior Team pool member and balances her life as an athlete with working as an artist and small business owner.
Akemi enjoys teaching karate out of a genuine love of the art. In her own training she enjoys exploring the complexity of transitions and how to present the kata in a way that most clearly communicates the intentions of the fighter. She enjoys transferring this knowledge to her students and works for those moments when a challenging technique or concept is actualized by a student.
Akemi holds a Bachelor of Arts in Ethnic Studies from the University of Colorado, Denver.
---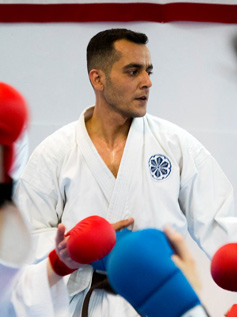 Raafat Mohsen began his life long love of martial arts at the age of 7, and has been practicing Karate for 23 years and holds a 1st Degree Black Belt in Shotokan Karate. Raafat has been studying since 2015 under Senseis Isao Gary Tsutsui and Candice Tsutsui at Colorado Budokan. He credits them for deepening his knowledge and growth within Karate-Do. "I consider myself lucky and I will always be thankful and grateful that I have been able to be a part of Colorado Budokan".
Karate has been the biggest influence in Raafat's life and the spirit of Karate-Do has helped not only in karate skills, but in multiple aspects of life. Raafat loves to teach because "it's not only about passing along knowledge, but teaching is a way of encouraging self-discovery and bringing out the deep potential in oneself. It's about having good communication skills that can reach those potentials in my students to become better for themselves and for others".
Raafat is a member of the USA Karate Federation and has competed in many local and regional tournaments, including the 2019 USA Open Karate Tournament in Las Vegas where he won a bronze medal in Kata.
---
Japanese Martial Arts for kids