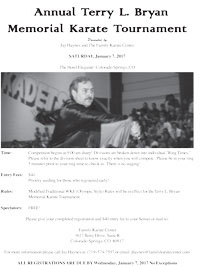 4th Annual - The Terry L. Bryan
Memorial Karate Tournament
Presented by Jay Haynes and The Family Karate Center

Saturday, January 13, 2017
The Hotel Elegante
2886 South Circle Drive
Colorado Springs, CO

The complete registration packet is available for download here

For additional information please call Jay Haynes at:
(719) 574-7557 or email: jhaynes@familykaratecenter.com


---
29th Annual Colorado Karate Classic Tournament
Sunday November 5th, 2017
Niwot High School
8989 Niwot Road, Niwot, Colorado

Hosted by: Wado-kai Shudokan Karate
Sponsored by: Wado Karate Federation of USA

Tournament Director: Sensei Hiroyuki Tanabe
Shudokan Karate
Longmont, CO
Information: 303-651-7156

::Download the complete registration packet here::
For Additional Information visit:
www.shudokankarate.org

---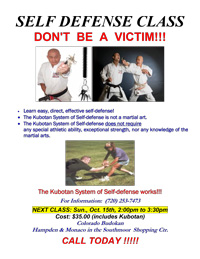 Kubotan Self Defense Seminar
Sunday, October 15, 2017
Colorado Budokan
3547 S. Monaco Pkwy. Denver, Colorado 80237
Hampden & Monaco - in the Southmoor Shopping Ctr.
2:00 pm - 3:30 pm
• Learn easy, direct, effective self-defense!
• The Kubotan System of Self-defense is not a martial art.
• The Kubotan System of Self-defense does not require any special athletic ability, exceptional strength, nor any knowledge of the martial arts.
To sign-up or for more information, call: 720.253.7473
---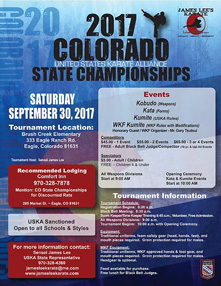 2017 USKA Colorado State Championships
Saturday, September 30, 2017
Brush Creek Elementary
333 Eagle Ramch Rd. Eagle, CO 81631
Competition Starts 9:00 am
EVENTS
Kobudo (Weapons)
Kata (Forms)
Kumite (USKA rules)
WKF Kumite (WKF Rules - modified)
Hosted by James Lee Karate, USKA
::Get the Event Flyer here
::Get the Event Registration Form here

---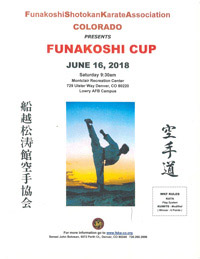 5th Annual Funakoshi Cup
Saturday, June 3, 2017
Montclair Recreation Center - Lowry
729 Ulster Way, Denver, CO 80220
Competition Starts 9:30 am
Presented by John Bolosan, Funakoshi Shotokan Karate Association-Colorado
::Get complete tournament information
and registration info here::
---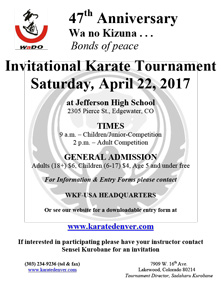 47th Anniversary
Wa no Kizuna - Bonds of Peace
Invitational Tournament

Saturday, April 22, 2017
Jefferson High School
2305 Pierce St.
Edgewater, Colorado
Presented by Denwakan and Sponsored by Wado Karate Federation of USA (WKF-USA)
Event Contact: Sensei Kurobane at 303-234-9236
::Complete Tournament Information Available Here ::

---
The 19th Annual Friendship Cup was a great success!

Thanks to all who participated, competed, volunteered and came to watch the competition.
::Complete Tournament Results are available here::

::Check out event photos on our Facebook page here::
---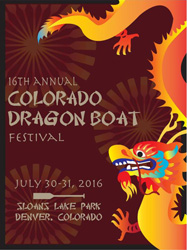 Colorado Dragon Boat Festival
Sat. & Sun. July 30th & 31th, 2016
Sloan's Lake Park
Denver, CO

We are very fortunate again this year to be accepted to perform at this prestigious event!
Our demonstration is scheduled for Sunday, July 31th at 11:00am in the Martial Arts tent.
Sign up for the demo at the dojo or just email, call or text me to let me know. If you will be participating in the demo, please arrive at the venue at 10:00am. There will be $5 parking at Sports Authority Stadium and free shuttles to Sloan's Lake Park. If you will need a ride please let us know.
:: More info on the Festival is available here ::
---
Lee Gray Kata & Kobudo Seminar
Saturday June 25, 2016
Rock Church Gym
4881 Cherokee Dr.
Castle Rock, Colorado

Sensei Lee Gray will once again visit the Denver area to give a very informative seminar on Goju-ryu Kata and authentic Okinawan Kobudo training.

Sensei Gray's Bio is available here::

Seminar Schedule
Karate Seminar - 9am to 12 noon
Kobudo Seminar - 1:30pm to 5:00pm

:: Seminar Registration Form ::

Cost:
1 Seminar (Karate or Kobudo ) - $45 per person
Both Seminars - $80 per person

This years seminar will be hosted by Sensei Sam Walker from Colorado Shobukan in Castle Rock, CO. Please contact Sensei Walker at 303.719.8234 for more information about attending this seminar.
---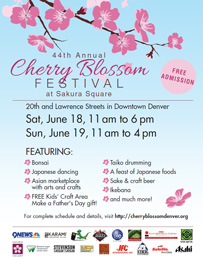 2016 Denver Cherry Blossom Festival
Saturday June 18 - Sunday June 19, 2016
Sakura Square
Downtown Denver, Colorado

Join us for Colorado's Annual Celebration of Japanese American Culture.

Colorado Budokan will be doing demonstrations on the main stage on Sunday at 2:30PM.

:: Complete Event Information is Available Here ::